Download AoA Audio Extractor Free Extract Audio from Video Files
AoA Audio Extractor is really useful and I think that many of the audio professionals need it. It can extract audio and background music from movies and videos supports most audio formats. If you need to separate audio from video, the process is very easy.
AoA Audio Extractor Extract audio from video files easily without any complications. You can Download AoA Audio Extractor to Extract Audio from Video Files for Free.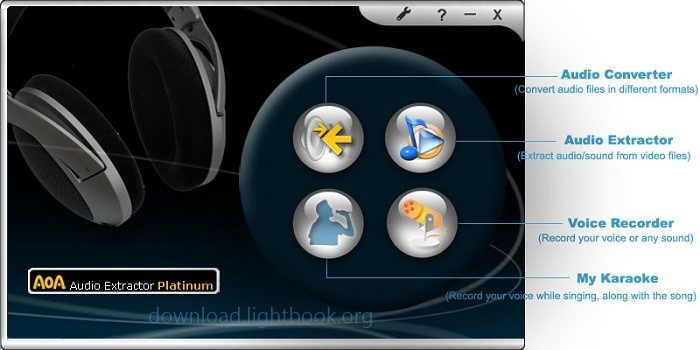 About AoA Audio Extractor
AoA Audio Extractor is a lightweight and easy-to-use program, free from annoying ads and pop-ups. It is usually used to extract audio and music from video files.
This is his primary mission. The program is awesome and powerful in its work and as I'm easy to deal with. AoA Audio Extractor: AVI MPEG / MPG / FLV / DAT / WMV / MOV / MP4 / 3GP  / MP3 / WAV / AC3. It is Supports many formats including.
AoA Audio Extractor also has the ability to drag and drop files directly on the interface. In conjunction with social networking sites in order to access and preview video files from the program itself, and this saves you time and effort in using other programs.
Download AoA Audio Extractor
Also, with AoA Audio Extractor, you can control audio filtering as you want stereo or normal and strong sound performance and other filters provided by AoA Audio Extractor.
The program is integrated into its performance and works perfectly, it supports the process of memorizing the adjustments made in most of the known audio formats, most notably: MP3, WAV, and AC3.
Features
AoA Audio Extractor can extract audio from any part of your video without having to extract the entire file. In my opinion, this is the most important thing. The program is very fast in extracting audio from video when I tried it took only two minutes of time to extract audio from a 38-minute video clip, and that's something really cool.
In addition to all its features, the sound quality between the video and the extracted audio files remains the same and will not lose any quality or property in the extraction process. It will maintain its quality as it was in the video before extraction. This is all about AoA Audio Extractor! I leave you with to download and test the lightness, ease, and power of this most wonderful program.
Product Details
Categories: Audio Editing Software
Free License: Free
MB File size: 7.98 MB
Version: Latest
Core: 32/64-bit
Support systems: Windows All Versions Windows XP, 8, 7, and 10.
Languages: English
Media Developed company: AoA Media
Download AoA Audio Extractor
AoA Audio Extractor for Windows
Related Software