Download Comodo IceDragon 2021 Free Internet Browser
Comodo IceDragon Internet Browser is an easy and excellent internet browser that delivers high protection for your device, created on the framework of the foundation code of the famous Mozilla Firefox, Comodo IceDragon provides Site Inspector to scan for malware and malware to provide maximum safety against all episodes.
This program features Secure DNS, which helps users to browse the web safely with malware avoidance. Secure DNS real-time protects you from malicious sites, including phishing sites, malicious documents, phishing sites, spyware, magazines, and sites that contain many malicious advertisements.
Comodo offers you adequate security and prevents you from accessing these websites which might expose your device to hack or cause serious problems in the machine to avoid it from performing its role properly. If you're looking for security and maximum safety, Download IceDragon Free Internet Browser.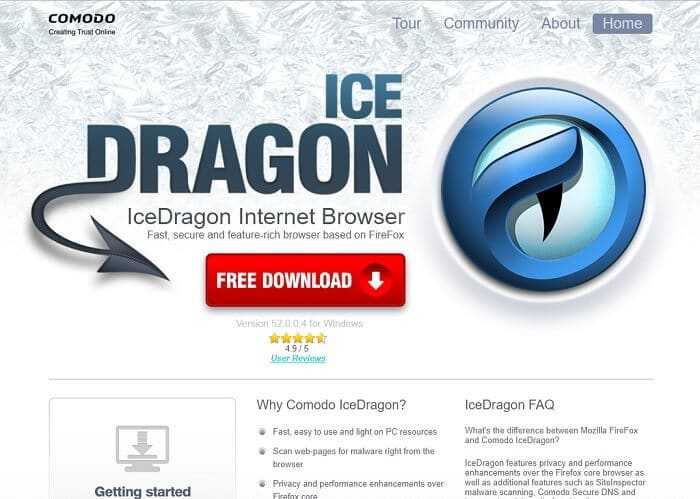 IceDragon Internet Browser 2021 is built on the foundation of Mozilla Firefox, which features many of the superior tools in security and protection is fully compatible with the components and additions to the browser Firefox, Comodo IceDragon combines the power, speed and protection capture all functions of the famous browser known Firefox To give the user privacy and security is unparalleled.
IceDragon Features
A fast and easy-to-use browser that does not consume computer resources.
It has the ability to scan web pages to detect and block malicious programs and malicious files.
It's easy to load pages quickly and quickly.
Privacy protection helps you navigate your network while providing you with many useful tools.
A light browser on your device without consuming too many resources on your device.
An easy and simple interface much like the Firefox interface has been built on the same source code.
Supports all Firefox extensions.
Supports the Arabic language with a very easy user interface.
Protection from spyware and malware links.
Change DNS settings to speed up browsing.
Download Comodo IceDragon


Product Details
Categories: Internet Browsers
Software Name: Comodo IceDragon
License: Free
File size: 51 MB
Supports systems: Windows XP, 7, 8, 10 (32-64bit)
Languages: MultiLanguage
Developed Company: Comodo Inc
Official website: icedragon.comodo
Related Software