Download VSDC Free Audio Converter Latest Version
Download VSDC Free Audio Converter Latest Version
VSDC Free Audio Converter is a quick, powerful, feature-rich, and simple-to-use audio converter. Its primary function is to edit and convert audio files from one format to another. All common audio formats, including MP3, Windows Media Audio (WMA, ASF), QuickTime Audio (MP4, M4A, AAC), Real Audio (RM / RA), Vorbis Audio (OGG), Creative Audio (VOC), Sun Audio (AU), Wave Audio (WAV, AIFF), FLAC, and more.
All audio codecs are supported, including MP3 / AAC / Vorbis / GSM / ADPCM. It can also open and convert M3U files, as well as download audio files from the Internet. (You may get it straight from the official website; the link is towards the conclusion of the subject.)
Features
All Major Audio Formats are Supported
It supports all common audio formats and audio codecs. MP3 / WMA / ASF / M3U / MOV / MP4 M4A / RM / RA / OGG / AMR / VOC / AU / WAV / AIFF / FLAC / OMA and others are supported formats.
Advance Exports
Using preset export settings, you may select the sound quality you desire and format it without having to think about it. The software has several settings that span all formats and multimedia devices. You may simply alter them or build your own.
Capability to Save Audio from Videos
You may now save the audio track or a section of a video clip and make your own audio file in whatever audio format you wish.
Remove the audio portion of the file
You can quickly erase the audio component of the file using the built-in editor. Parts of the final file will be deleted after conversion.
Downloading Music from the Internet
You may always download audio from a place and quickly convert it to another format.
High Conversion Rate
Because the conversion only employs high-quality audio processing techniques, there is essentially little quality loss; conversion quality is determined only by the preset you select.
Fast Conversion Rate
To speed up their work, all of our products employ several processors. Our program supports a variety of technologies, including Dual Core, Core Duo, Hyper-Threading, and others.
Stability and dependability are excellent.
All Windows operating systems are supported. When you use the VSDC Free Audio Converter, you have no problems.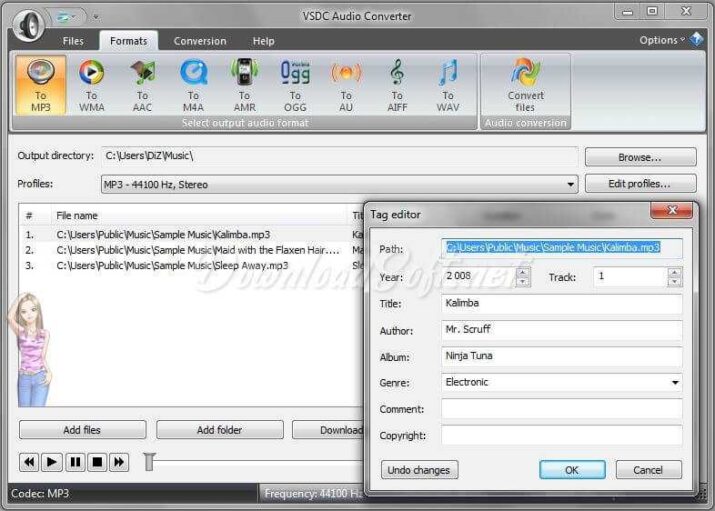 Technical Details
Category: Multimedia Software
Software name: VSDC Free Audio Converter
Version: The latest
License: Free
File size: 21 MB
Operating Systems: All versions of Windows
Core: 32/64-bit
Languages: Multilingual
Developer: Flash-Integro LLC
Official Website: videosoftdev.com
Related Software