Office Tools
Cacoo Online Diagram Cloud-Based High-Quality Tools
Cacoo Online Diagram Cloud-Based High-Quality Tools
Cacoo is free and very easy to use via the web app building that allows you to turn your browser window into a professional drawing application. With it, you can draw whatever you want, from wireframe graphs, site maps, network maps, URLs, mind maps, and more. Create online charts!
The advantage Cacoo has shined about other similar services is its focus on real-time communication and collaboration. With the help of others, even the most complex charts can be easily created, and most importantly, share a few clicks on any number of sites or blogs. To make updates and edits of already shared content easier, whenever you change the diagram in Cacoo, shared images will receive this update immediately.
Cacoo Online Diagram
Review
Online drawing tool  100% free and easy to use!
Online charting tools have become popular over the past few years, appearing in large numbers and offering users from all over the world an easy way to create their home, student, or professional drawing directly from computers or mobile devices without having to download stand-alone clients.
✅ To meet the needs of users of all levels of knowledge, these apps are designed with many goals in mind, enabling only a few of these apps to get really wide popularity through management to truly meet the needs of everyone.
One of these easy-to-use professional tools is  Cacoo, which was created in October 2009 with the aim of enabling everyone to easily feel the benefits of a highly efficient chart editor but also the deep integration of collaboration, sharing, and easy project management.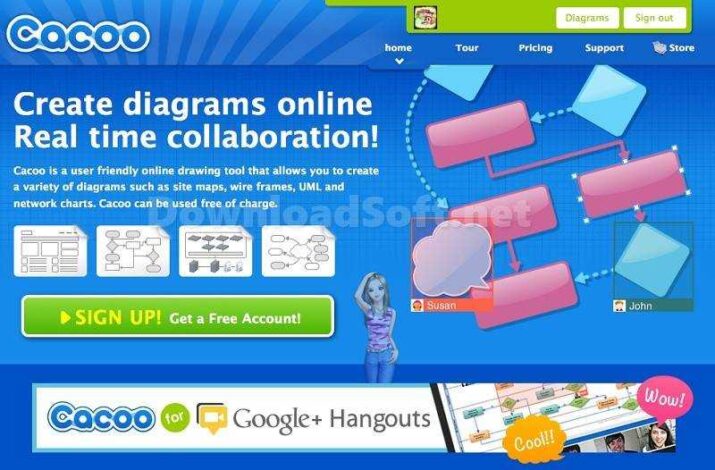 Overview
Cacoo is a high-capacity cloud-based creation and management tool that can help anyone from beginners to professionals easily create charts from their web browsers. To make this process as easy and intuitive as possible, Cacoo developers  designed an easy-to-use, versatile and expandable graph editor that can be used to create all kinds of charts,
Whether through individuals' work or by online collaboration in real time between team members who can easily connect with each other, create complex charts with ease, brainstorm, create charts on the fly where their creativity is being wild, and more.
✅ Final charts created with  Cacoo can be easily shared using integrated hosting that makes it easy to access your chart by anyone, share the URL, share directly on Twitter and Facebook, and print and export of course to local storage via PNG and SVG formats. Create online charts today!
Easy user interactions with  Cacoo  Editor is something developers have spent a lot of time improving on. The tools for creating and manipulating chart elements are very complex, allowing users to easily drag and drop objects from a large object library, draw links between them manually or automatically, and upload images to make charts more descriptive (those images can be edited and cut directly from within  Cacoo), use styles, grid sizes Changing to switch objects using text input tools and much more. Cacoo Online Diagram Cloud-Based
The editor allows unlimited levels of undo actions, users can easily draw new objects, invite people to work in real-time on a single chart, leave comments and annotations, use built-in chat tools, and more.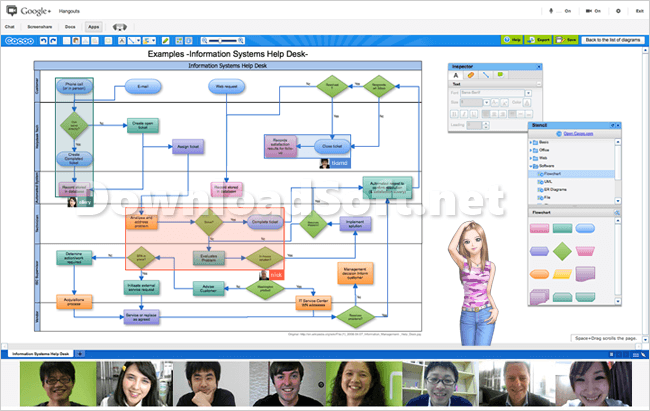 User interface
The Cacoo interface is unmatched, with a professionally organized and intuitive editor enough to be used even by beginners.
Registration and cost
The free version of Cacoo supports the creation of up to 25 sheets of charts that are hosted within a single project folder, up to 15 team members working on only one diagram and exporting PNG. Most restricted users do not have access to modify the registry and highlight differences.
Premium levels that open up many advanced tools and remove restrictions start at $4.95 per month at affordable prices and can be as high as $99 per month for a team license that can host up to 100 users. Cacoo Online Diagram Cloud-Based
With flexible tools, a large feature set, and stunning attention to detail, Cacootoday is one of the most professional and usable graphics editors of all types, shapes, and sizes.
Features
Create a variety of diagrams
Creating attractive diagrams, such as wireframes, mind maps, network diagrams, and site maps are very easy for anyone since you can simply select "drag and drop" items from a large library of stencils. Cacoo covers
Fast and easy
all basic drawing functions. Many stencils, alignment functions, background paper, free options, and much more help you to draw beautiful diagrams efficiently. Create online charts!
On a web browser
All you need for Cacoo is a web browser. No troublesome installation is required. Using a computer and accessing the Internet, anyone can sign in to Cacoo and edit the charts. Start drawing charts at home or at work or in hotels while traveling.
Collaborate in real-time
users share and modify one chart at a time. Changes are displayed on the sharing screen in real-time. The collaboration will be more creative and productive where team members can plan and review collaboratively.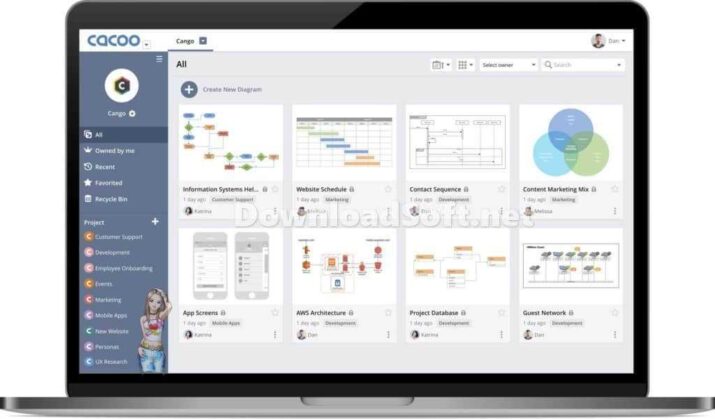 Technical Details
Category: Office tools
Software name: Cacoo
License: 14- free trial
Languages: Multilingual
Developer: Nulab Inc
Official website: cacoo.com
Related Software